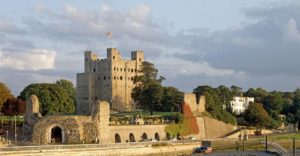 This is an amazing Castle to visit built nearly one thousand years ago!
It still stands today over 100 feet tall.
It was built in a key strategic defence position across the road to London.
At the same time protecting and  guarding the very  important crossing of the River Medway.
The fortress has been through periods of both attack resulting in damage and destruction which then resulted om subsequent rebuilding.
Personally I do not know such a tremendous historical site that one can get so close to. Its even possible to park ones car very close to it even as if you are in the grounds of the Castle its self.
The Norman tower with a keep was constructed around   1126/1130 AD  by the then  Archbishop of Canterbury who was William Corbeil. He did have a little help from his friends as he was encouraged by Henry I the current King Of England. With friends in high places most things are possible.
There are three floors which are built above a basement.
To this day  it is still over  100 feet in height.
There is also a rather tall protruding fore building which contained its very own set of defences. These had to be navigated before one was able to enter the Keep which was then one level up.
Nearly one hundred years after it was built in 1215 when occupied  by rebel barons, there was an epic siege of the Castle by King John.
King John Having first undermined the outer wall used the fat from pigs to create a fire beneath the keep. Eventually this brought the southern corner to collapse and fall down.
But as was often the case in those by-gone times the occupants continued to held on, until, of course. they ran out of food and were therefore effectively starved out after putting a strong resistance for some two months.
The Castle was reconstructed  under the reigns of Henry III and Edward I,
Rochester castle was able to remain as an effective abd indeed valuable fortress  until the sixteenth century